T-Mobile subscribers can no longer sign up for KickBack
2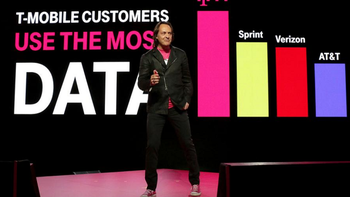 When the clock struck 12 am this morning, and the calendar flipped to Friday the 13th, T-Mobile's KickBack enrollment came to an end. Unless you've already signed up for KickBack, and keep paying for a qualifying rate plan, it no longer is an option for new or existing T-Mobile customers. Those enrolled in KickBack receive a $10 credit if they use 2GB of data or less on a T-Mobile postpaid phone or tablet line during a month.
KickBack kicked off on January 22nd, 2017 and has now kicked the bucket. T-Mobile says that it is ending the program since it was designed for those who don't use much data, and T-Mobile customers "love data," using more data than subscribers to any other U.S. carrier. With that in mind, the nation's third largest carrier adds that KickBack activation has been low and T-Mobile would rather "focus on features that more customers want."
"KickBack was designed for customers who didn't want to use a lot of data – but our customers love data. T-Mobile customers use more data than anyone else in the industry and as a result, we've seen very low customer activation. We have decided to instead focus on features that more customers want."-T-Mobile
As a quick follow-up to Tuesday's rumor that
T-Mobile and Sprint have restarted merger talks
, Sprint's shares closed the week at $5.78. They peaked at $6.21 on the day of the report, a five month high. If a deal is imminent, both firms are keeping the secret very well. A quick perusal of call options on Sprint (basically a quick money bet that Sprint's shares will rise) doesn't show any unusual volume. Usually when a buyout leaks, those trading on the information will turn to the options market because it offers the biggest bang for the buck.
source:
T-Mobile