T-Mobile cracks the 30Mbps LTE speeds barrier vs Verizon, AT&T and Sprint in Q3
21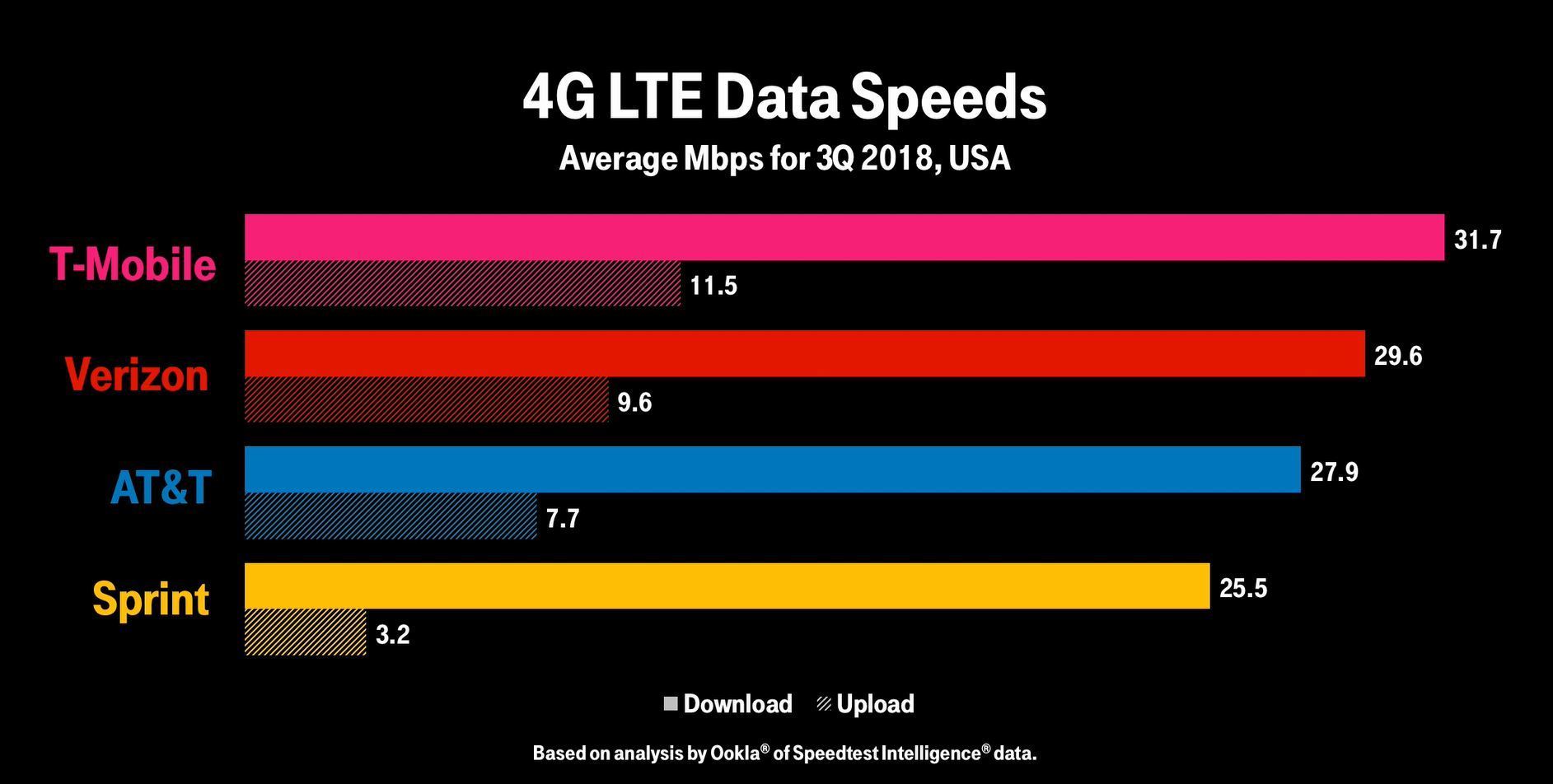 T-Mobile was early in the unlimited data game, at the time when it sacrificed profit for market expansion, and the average LTE speeds of its network have been simply rising steadily, as it poured more resources into its network, plus it has fewer subscribers to put a dent on its towers.
There were some hiccups when unlimited plans took over at Verizon, though, as it's the largest carrier with the most users to weigh on its network during congestion times. Verizon, however, reversed the dip quickly and ended last year with actually faster overall LTE speeds than it started it. What about this latest quarter, though?
Well, the latest crowd-sourced reports from the creators of the Speedtest (Ookla) come to show that average speeds have grown drastically since the first half of the year, and T-Mobile has even cracked the 30 Mbps barrier now. Verizon isn't far behind in download speeds, at 29.6 Mbps, and its record is even more impressive considering how many more subscribers it carries.
The average network speeds of these two carriers are almost tied at the top, but AT&T isn't much farther down the totem pole, too, with 27.9 Mbps, and it has coverage that is just shy of Verizon's giant US footprint. Sprint's humble network clocked in 25 Mbps on average, but, overall, LTE speeds are no longer a problem for either of the top US carriers now, it seems.
We'd have to open a bracket here and note that, according to Verizon, such crowdsourced testing isn't really indicative of real-world performance. It (understandably) doesn't get reports from blind spots, and Speedtest metrics tend to congregate in the cities. Verizon cites its own reports by
RootMetrics
which actually go and test the networks by driving around the country, but when it comes to Ookla's quarterly reports, it's usually T-Mobile that knows it will do well, and its CEO John Legere doesn't hesitate to boast each time it scores a predictable win.