T-Mobile to rename its HSPA+ network as 4G?
35

While Sprint advertises its 10mbps network as 4G, why can't T-Mobile do the same with its 21mbps HSPA+ pipeline? After all, neither meets the ITU Radiocommunication sector's definition of 4G as an advanced cellular network with speeds that "must have target peak data rates of up to approximately 100 Mbps for high mobility such as mobile access". Currently, the nation's fourth largest carrier refers to its HSPA+ network as producing 4G speeds, but had not publicly referred to it as a 4G network despite internal documents that do so.
With Sprint's WiMax network covering 120 million people and T-Mobile's HSPA+ reaching 200 million, the latter has already had documents leaked where they call themselves "America's largest 4G network". Even T-Mobile's web site makes references to 4G. Replace HSPA+ with 4G and with a couple of quick pen strokes, the nation's fourth largest carrier becomes its largest purveyor of 4G service.
Perhaps this is what
Project Emerald
is all about.
source:
AndroidandMe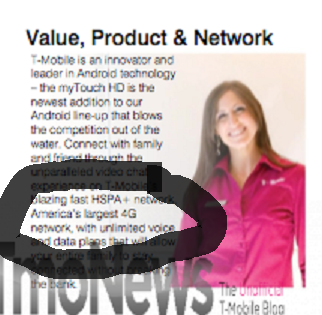 T-Mobile is already calling itself the largest 4G network in the U.S.