T-Mobile adds Data Stash to Simple Choice prepaid customers
12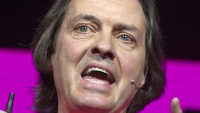 T-Mobile announced today that it will start offering Data Stash to its Simple Choice prepaid customers starting on Sunday, March 22nd. Today's announcement comes
three months to the day when the carrier introduced "rollover data"
by offering it to its postpaid subscribers. Each prepaid voice customer with a Simple Choice plan will receive 10GB of data on the house. Once that data is consumed, unused data rolls over every month. Data that rolls over must be consumed within a 12 month period.
T-Mobile also took a shot at the other carriers in its release, revealing that over 40,000 tweets were sent out last year from wireless customers asking to keep their unused data. T-Mobile CMO Andrew Sherrard also made an interesting analogy comparing the other carriers to a gas station that takes back the gas in your car that you didn't use up at the end of the month. "
It is flat out wrong to repossess something your customers have already bought and paid for
," Sherrard wrote.
Addressing
AT&T's "Rollover Data" plan
, the T-Mobile executive notes that data only carries over for 30 days before expiring. And he also took aim at Verizon CFO Fran Shammo who said in January that
Big Red won't participate in any rollover data promotion
because "
We're a leader, not a follower
."
"This almost makes me miss the days when we'd launch an industry-rattling Un-carrier move − like Contract Freedom or JUMP! − and the carriers at least pretended to follow us. Frankly, I'd love to see the carriers do something serious here, because we are on a mission to change the wireless industry for the better for every American. Maybe the carriers will wake up when we unleash our latest Un-carrier move on them later this week. But to be honest, I won't be holding my breath."-Andrew Sherrard, CMO, T-Mobile
Sherrard also noted that 27% of T-Mobile subscribers covered by the Data Stash program have already used some of the unused data they've banked. By the way,
T-Mobile is holding a media event this Wednesday in New York
. What will Un-carrier 9.0 be?
source:
T-Mobile
via
AndroidCentral