AT&T makes it official: Rollover Data is here
47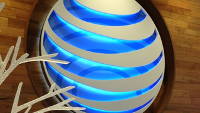 As we exclusively told you earlier this morning,
AT&T is following in the footsteps of T-Mobile by offering Rollover Data
. It will be offered to all Mobile Share Value customers at no cost, and debuts on January 25th. Unlike T-Mobile's Data Stash, which lets customers employ unused data for up to 12 months, AT&T is requiring that its customers use their rollover data during the next month.
Everyone who shares data on a Mobile Share Value plan will have the ability to share in the use of the rollover data. AT&T customers will be able to view the amount of their unused data using the myAT&T app, or by visiting the carrier's website (att.com). Any rollover data that is not used the following month will expire. More than 50 million AT&T customers will qualify for Rollover Data.
"Rollover Data is an added benefit of being an AT&T Mobile Share Value customer and it's just another way that we're saying thanks to our more than 50 million plus Mobile Share Value subscribers. We're providing even more value and flexibility, and the best part is it's simple, shareable and easy to track for our customers. All Mobile Share Value customers get this automatically."-Glenn Lurie, President and CEO, AT&T Mobility
With AT&T offering Rollover Data, the question becomes whether this will become an industry wide innovation that eventually makes it to all four major carriers. We also have to tip our hat to T-Mobile CEO John Legere. As we pointed out in our exclusive this morning, the executive made a list of predictions for 2015. One of his "calls" was that
AT&T would offer its own version of Data Stash
which it has now officially done.
source: AT&T