T-Mobile: Yet again the biggest loser with the announcement of the iPhone 5
31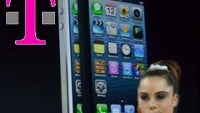 Oh T-Mobile! It just seems that they can't get a break when it comes to the iPhone, as they're once again excluded from the listing of domestic carriers that are expected to start selling the next-generation iPhone in over a week. By now, we're all well aware about the iPhone's rich history with the domestic wireless carrier.
For a long period of time,
AT&T reaped the benefits
of being the exclusive carrier of the iPhone in the US, but eventually, the parade ended with
Verizon Wireless finally getting in with the iPhone 4
. Then last year, with the announcement of the iPhone 4S, it was made known that number three contender,
Sprint
, would finally be included in the group of carriers selling the beloved iPhone. Well folks,
T-Mobile USA is yet again the biggest loser
with this latest iPhone announcement.
Sure, we've seen them advertise about getting an
iPhone unlocked so you can use it on their networ
k – with the aid of the
microSIM cards they sell
, of course. However, when it comes down to it, they're missing out on many opportunities! For the average Joe, it'd be hard to find them go out of the way to get an iPhone unlocked and activate a T-Mobile microSIM, so yeah, it's not a convenient process.
Furthermore, it makes you wonder how much of a bind T-Mobile USA is in right now. Sprint decided to
take a hit
just to have the iPhone on its lineup, which enabled them to
reel in some new customers in the process
, but it makes you wonder if the investment in bringing the iPhone would've been too much for the number four wireless player in the country to handle.
Regardless of the reasons, T-Mobile is downright the biggest loser with the announcement of the iPhone 5. Again, they face another busy holiday season without the iPhone in hand – so it leads anyone to wonder if it'll ever become a reality in the near future. Until then, it looks like diehard T-Mobile customers will need to rely on the usual tactics of bringing it over, which isn't particularly the most convenient process. To all the T-Mobile customers out there, are you upset about the lack of an iPhone on the carrier's lineup?