Sprint nabs the Apple iPhone 4S, with unlimited data still tacked on?
23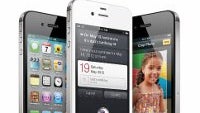 Say what you will, but there's no arguing that there are still some winners worth pointing out after
Apple officially unveiled the iPhone 4S today
. Naturally, it wasn't a surprise to expect the new smartphone coming to both Verizon and AT&T, but what's new this time around is the fact that Sprint is joining in on all of the fun.
Saving it for nearly the end, Apple mentioned that this world phone is going to be sold by
Sprint
– the carrier that's been making the headlines of late about possibly
landing some kind of exclusive
. Even though there was no mention of a WiMAX equipped iPhone or an iPhone 5, we're sure that Sprint customers are still cheering to the good news that the beloved smartphone is making its way to the carrier. And it's also good to know that not only the 4S, but the iPhone 4 8GB will also be available with the country's third-largest carrier.
However, things will surely start heating up now that customers have more options in terms of who to go with when purchasing the iPhone 4S. Granted that there isn't any "4G" moniker attached to the iPhone 4S, one will really need to look at the deciding factors that would make Sprint a slightly more appealing option. In fact, it begs the question whether or not Sprint will
retain its current truly unlimited data plan offering with the iPhone 4S
.
To tell you the truth, it'd be difficult to see them change their stance on that one, especially when they spent a good amount of money in advertising their prowess in unlimited data plans. And in a world where belts are being squeezed all the time, it's always refreshing to know that Sprint continues to give its customers the flexibility of chomping down on as much data as their hearts desire – compared to the throttled speeds and overage charges that its rivals smack customers with once they've reached their allotment.
Currently, there is no concrete confirmation regarding the data plan for the iPhone 4S, but we're crossing our fingers that it stays firmly to what it has in place right now. We've reached out to Sprint regarding the matter, so we'll update this article once we find out.
**Updated**
We just heard back from Sprint, but unfortunately, they're not yet ready to provide details regarding the data plan for the iPhone 4S. Thankfully, details are sure to come out in the very near future about it – especially when launch day is already getting close!
source:
Apple