Sprint won't make profit out of the iPhone until 2015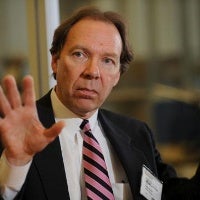 Sprint's chief executive Dan Hesse bet the farm on getting the iPhone to the nation's third-largest carrier in a $15.5 billion deal spanning over the next four years, but will the operator ever profit from the iPhone? If you ask Hesse, the decision he took is the right one and while the fruits of it aren't immediately visible, it will pay-off in the long term. But looking at the present, it's a tough time for the carrier and the CEO will be the first to confirm it as he slashed $3.25 million off its salary to please shareholders.
And about that iPhone?
"We're very happy with it,"
Hesse said at the company's annual shareholders meeting.
"Carrying the iPhone will be quite profitable."
The main benefit the Sprint chief executive saw is the slow down of subscriber turnover and the creation of a new segment of higher-value subscribers.
"We believe in the long term,"
Hesse said.
"And over time we will make more money on iPhone customers than we will on other customers."
So far, Sprint has gotten some positive results. Revenue per user increased 6.9%, the biggest growth ever recorded in the US, so maybe indeed all it really takes is time.