Apple now taking pre-orders for the Verizon iPhone 4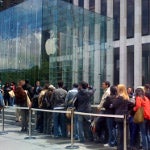 Just as promised, Apple added theVerizon iPhone 4 to their website and now you can pre-orderyours directly from Apple. This makes the official Apple Store thesecond place where you can order it online after Verizon added theiPhone 4 to its store. Ordering online and in-store pickup areboth available for individual and family plans.
The official launch day for the VerizoniPhone 4 remains Thursday when we might see the very familiarlines in front of Apple stores. And demand could be even higher thanexpected as the iPhone 4 already topped Verizon's first-day sales record in two hours.In order to keep enough handsets stocked, it seems that new orderswill not be delivered until February 18th. If you areplanning on getting the Verizon iPhone, you should know that 7AM isthe official time of launch at Best Buy, as well as Apple and Verizonstores.
source: Apple