T-Mobile USA and Nokia plans to shake things up at an event in NYC next week
21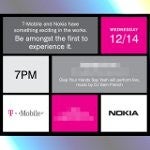 Out of all the domestic wireless carriers, it's evidently obvious that
T-Mobile
has been more open to offering devices from
Nokia's camp
– not only the inexpensive flip phones from them, rather, some decent smartphones as well.
New York
next week. Naturally, it's almost hard to imagine the event to surround some sort of Symbian device, but instead, we could potentially see one of Nokia's
Windows Phones
making a grand entrance into the postpaid world in the US. Still, it's unknown if we'll be seeing more than one device, but so far, it wouldn't surprise us to see either the
Nokia Lumia 710
or
800
joining Tmo's lineup.
In any event, it'll be a short week before we find out what the fuss is all about. Yes, we've been grateful to see the Nokia Nuron and Astound a part of T-Mobile's lineup in the past, but we're feeling this new relationship that's starting to form between the two. Let's hope that Nokia's presence expands beyond this one though.
via
The Verge