Nokia Lumia 710 Hands-on
7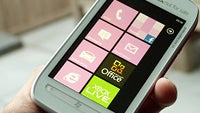 A peg below Nokia's new flagship phone, the
Nokia Lumia 710
delivers some respectable specs alongside Nokia's trademark hardware. Going back to Nokia's roots, the Lumia 710 offers swappable back-covers and a younger, more affordable overall device. As with its bigger brother, the
Lumia 800
, the device also sports a 3.7" Clear Black WVGA display, only this time it's on top of an LCD screen as opposed to the Nokia Lumia 800's AMOLED. It's also got the same 1.4GHz processor and Nokia specific Windows Phone functionality.
Holding the Nokia Lumia in the hand and it feels a lot more plasticy than the Nokia Lumia 800. With a glossy finish and more hollow weighting, it doesn't have as much presence and results in a considerably less premium user experience. That said, it is nicely rounded off to sit into the groove of the hand and has curved corners making it comfortable to hold and use. The Nokia Lumia 710 has three physical buttons below the display which look a bit clumsy and are cumbersome to interact with. Adding to this, the two stage camera button has very little travel, so compounding the considerably more budget feel of the Lumia 710 than the specs would suggest.
If specs are what you're after however, the guts of the handset are very desirable, with Windows Phone 7.5 flying given the
1.4 GHz processor
being more than capable of drawing the best out of this OS. Menus are simple, clean and elegant although the wow factor of the AMOLED display on the Nokia Lumia 800 is definitely missing. Вorking around the handset is a treat, with no lag, stutter of slow down in sight. The keyboard works well on the display so performance wise, it's a resounding thumbs up.
The Nokia Lumia 710 is due to launch in early 2012 in selected markets so we've got a bit of a wait. Until then, our first impression is for the most part positive. While the handset does feel a little cheaper than we would have hoped, it costs less than we would have thought ($375 before taxes and subsidies), so it's a fair trade off when you consider the performance. Once released, we'll give you a more in depth look at the functionality along with a verdict, so keep your eyes peeled if you want to know more.