T-Mobile Sidekick 4G is officially announced combining classic style with Android
16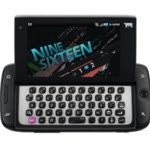 Particularly interesting to say the least whenever a company decides to offer customers
discounts
for devices that are being discontinued, it's equally surprising when that same company goes out and becomes the new face of a beloved classic. It was only earlier in the month when we reported that T-Mobile was going to completely
shutter Sidekick's Danger service
, but its timely dismissal only came when word came about a new kind of Android powered
Sidekick smartphone from Samsung's camp
.
With that, the longtime carrier of the Sidekick line just officially announced the
T-Mobile Sidekick 4G
– an Android powered device that takes control of the classic Sidekick style. You knew this one was coming either way, especially when some
images of the device was leaked
and quickly followed up by a
sign-up page on T-Mobile's web site
.
From the press release image of the device, it sticks to employing the
classic Sidekick design
that users have been accustomed to using for some time now. Specifically, it sports a 3.5" display that has a sturdy
"pop-tilt" hinge
that's long been a staple amongst previous Sidekicks. Furthermore, once its display is opened, you'll instantly recognize its hallmark 5-row QWERTY keyboard that truly delivers the immersive messaging experience that you'd come to expect from a Sidekick. And since we find "4G" in its moniker, it's going to be capable of delivering
theoretical download speeds of up to 21Mbps
.
If that wasn't, the Samsung made T-Mobile Sidekick 4G also features a speedy
1GHz Cortex A8 Hummingbird processor
, front-facing VGA camera for video chatting via Qik, and
Android 2.2 Froyo
. Seeing that the Sidekick line is known for its heavy messaging aspects, it doesn't skimp out in its offerings since it leverages its strength with Sidekick Group Text that simply allows you to better manage group messages to friends so that everyone is able to follow the conversation more easily. Additionally, it also features Cloud Text that even allows you to manage your messages from the comforts of your computer. And finally, both the official Twitter and Facebook apps are preloaded to sharpen itself in the social networking category.
Precisely something that will spur up interest with the young and hip crowd, the T-Mobile Sidekick 4G is one feature packed and modernized Sidekick that will undoubtedly attract old time users – while attracting new ones as well. So far, we're in the dark in terms of pricing or an release date, but as usual, it shouldn't be long before it's unveiled. In the meantime, it's pegged with becoming available later this spring in either pearl magenta or matte black.
source: T-Mobile