T-Mobile HTC One to get Android 4.3 next week
11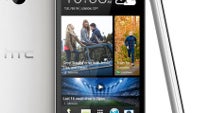 If you are a T-Mobile customer sporting the
HTC One
, we have some great news that will have you looking forward to next week. A tweet sent out by HTC America president Jason Mackenzie says that the T-Mobile HTC One is "on track" to receive the update by the middle of next week. The executive does temper the message a bit by bringing up the possibility that there could be a last second issue that changes the timing of the rollout, but perhaps he is just being cautious.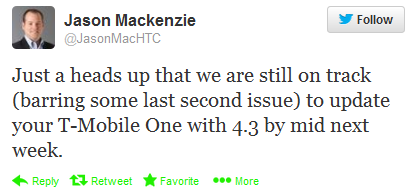 The tweet that launched smiles around the country
Since AT&T and Sprint customers have already received the update, Mackenzie's tweet is certainly welcome news for T-Mobile customers. But what about Verizon customers? Big Red was the last of the four major U.S. carriers to add the phone to its lineup, but most likely you can blame the delay on Verizon's propensity to test updates ad nauseam.
If you're walking down the street this weekend, or just going out in public, you should be able to tell who is toting a T-Mobile HTC One.Those would be the people you meet with big smiles on their faces. On the other hand, if there is some "last second issue" that changes things (just ask HTC DROID DNA owners about that), you don't want to be within 2 feet of them.
source:
@JasonMacHTC
via
AndroidCentral