T-Mobile CEO Philipp Humm resigns
22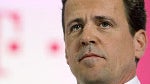 T-Mobile CEO Philipp Humm
has resigned from the carrier on Wednesday
and will also leave parent company Deutsche Telekom. In the meantime, while the carrier searches for a replacement, COO Jim Alling will take over the CEO position. Humm moved to Bellevue,Washington in May 2010 to work at T-Mobile, leaving his family back home in Europe, and in November of that year he was named CEO of the carrier. He had joined Deutsche Telekom in 2005 and was in charge of the telecommunication giant's mobile business.
Humm could not deliver the Apple iPhone to T-Mobile customers
It has been an eventful term in office for Humm who was in charge when AT&T offered $39 billion to but T-Mobile. After the purchase was blocked by regulations in the States,
AT&T pulled out of the deal
and Humm turned his focus toward making T-Mobile the most affordable carrier amongst the nation's top four mobile operators. T-Mobile, though. has been losing post-paid customers and its
pre-paid business has been bailing the company out
.
Humm also was in the CEO's office at a time that T-Mobile became a force in 4G with its HSPA+ 42Mbps network. Recent tests
showed that network beating Verizon's LTE pipeline in 11 cities
. The mobile operator is currently planning out an LTE network of its own using its AWS spectrum for the service.
T-Mobile has a deal with Verizon to buy some of the latter's AWS spectrum
only if Verizon gets approval from the Feds to close a deal it has to purchase spectrum from a group of cable companies. Humm was never able to get the Apple iPhone for his customers, although 1 million unlocked units are said to be running over T-Mobile's pipeline.
source:
FierceWireless