Switching from Android to Windows Phone Part 1: initial impressions and missing features
This article may contain personal views and opinion from the author.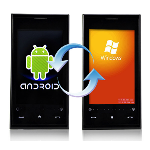 **Reminder: this is not intended to be a review of Windows Phone. This is intended as something of a running diary showing the process of an Android user getting to know and use Windows Phone.**
Making a change or choosing a new mobile platform can be a big step. Our mobile devices are more and more important in our daily lives, so the choice we make for our hardware and software dictates a lot of how we interact on a daily basis. iOS has become more closely tied with Twitter, not to mention its integration with iCloud and other Apple devices/products. Android, not surprisingly, is closely integrated with Google's products like Google+, Docs, Gmail, Maps, etc. Windows Phone is integrated with Micrsoft's Windows Live, and Bing, but also with Facebook to a larger degree. Often, we let the software we use dictate the platform we choose. However, in an effort to understand all aspects of the mobile ecosystem, it can be a useful test to try something new and give it a real workout, and not rely on just a short time or a platform's design philosophy to form an opinion.
Windows Phone is not yet exactly a major player given that it has yet to pass
2% of the market share
in America, but it has made a bit of a push in some regions like
Norway
and France. As we talked about recently, the Windows Phone ecosystem is in a tenuous position right now. It hasn't built much traction with consumers, and frustration with carriers and manufacturers
could be dangerous
if Microsoft and Nokia's partnership leads to manufacturers abandoning the platform rather than upping their game to compete with Nokia. Still, Microsoft has deep pockets, Nokia makes quality handsets, and the Windows Phone platform is designed extremely well, even if it can feel incomplete for someone moving over from Android, especially Android 4.0.
With that in mind, it's time to venture into the relative newcomer of Windows Phone. This is the next step in a 4 year journey through the mobile ecosystem which began with the iPhone 3G, moved to the Nexus One, then the Galaxy Nexus and an iPad 2. Sprinkle in regular use of a BlackBerry, and that covers most of the major players in the US smartphone market. So, Windows Phone was the obvious next choice. We'll get into the transition more deeply, but the overall impression from the first weekend of the switch is that Windows Phone has a lot of potential, but still feels a work in progress.
For this experiement, which should last for the next 6 weeks or so, we are switching from a Galaxy Nexus, which we have been using since December, to an HTC Radar 4G. We would have loved to use a Nokia Lumia 900, since it is the best WP device available, but the lack of T-Mobile support killed that idea. Still, aside from hardware design, screen size, camera quality, battery life, and maybe some specific apps, there shouldn't be too much difference between Windows Phone devices. It's not like the Android ecosystem where there are dozens of factors to be aware of when choosing a device. With Android, you have to understand the CPU specs, screen size, screen resolution, manufacturer, OS version, type of custom UI, radio type, camera quality, plans for OS update and more. With Windows Phone many of those choices don't exist, and that's exactly how Microsoft wants it right now.
Initial impressions on design
Obviously, the first thing you'd notice with a switch from the Galaxy Nexus or many other high end Android phones released in the past few months is the screen. The Radar screen is almost an inch smaller (3.7" compared to 4.6") and the resolution is much lower as well (480x800 compared to 720x1280). Because Microsoft has kept pretty tight control over what hardware can be used with Windows Phone, there hasn't been a lot of variation until just recently where there has been the introduction of 4"+ screens. This is a conscious effort by Microsoft in order to assure compatibility and consistent performance, so we obviously can't fault HTC for the screen, and really it was only an issue in specific situations like text on a web page while zoomed out.
As Google learned from Matias Duarte and
his work on Android 4.0
and the Holo theme, consistent gestures and continuity in UI from system to apps are important. But, Microsoft obviously already knew this because the Metro UI is built on the left-to-right swiping through pages, and the UI is consistent even within apps. Similarly, Google needed Matias Duarte to come in, explain the need for quality typography, and lead the project which
created the Roboto font
for Android 4.0, but the entire
Metro UI in Windows Phone is driven
by the typography, specifically the Segoe WP font. This means that even though Windows Phone devices are all WVGA resolution, text is almost always crisp and easy to read. The icons for Windows Phone are simple and bold, which can be a very welcome sight compared to Android or iOS where app icons are becoming increasingly complex or cartoony. The overall simplicity of WP icons helps to add a sense of cohesion that can be lacking in Android. So, not just the apps, but the WP icons also feel like they are all part of the same whole because of the design.
Windows Phone is most definitely a design oriented platform, which can be quite a nice transition for users coming from Android 2.x. It certainly doesn't look like anything else on the market, and that's a very good thing. We've never been much of a fan of iOS's static grid of icons. Android got a lot better with Ice Cream Sandwich, but there was a reason why HTC and Samsung felt the need to make Android look prettier in the days of 2.x. When done right, Live Tiles can be delightful, and the Metro UI is easy to navigate for the most part.