Nielsen: Smartphones officially more than half of all US phones, Android and iOS still dominate
30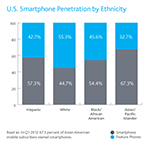 It has been
predicted for a while
now, but according to numbers just released by Nielsen it's official: more than half of all mobile phone owners in the United States have smartphones now, up from 48.5% last December. In other "news" Android and the iPhone continue to dominate the market, with RIM shedding market share once again.
Some troubling news for Microsoft here: the results break down the number of Windows Phone versus Windows Mobile numbers, and Windows Phone continues to trail almost everyone, including its own predecessor. According to Nielsen Windows Mobile still makes up 4.1% of the market, while Windows Phone barely registers at 1.7%. More than two years since
Windows Phone was announced
and they have not even reached half as many users as the decommissioned Windows Mobile - that must be majorly depressing to the powers that be in Redmond, especially given
how much money
they are pumping into Windows Phone marketing.
Research in
Motion
dropped to 11.7% - the best thing that can be said about this is that it's still in the double digits, although that probably
won't last the year
, unless BB10 is a huge success. The real winners, as usual, are Android and Apple. Almost one in three smartphone owners have an iPhone now, as the fruit-themed handset now accounts for 32% of all smartphones owned in the U.S. Android isn't exactly dogging it either, having moved up slightly to 48.5% of all U.S. smartphones.
Nielsen also released some interesting demographic facts – women have a slightly higher rate of smartphone adoption than men (although at 50.9% vs. 50.1% it's probably within the study's margin of error). Also, in the U.S. Caucasians actually have the lowest rate of smartphone adoption, with Asians and Pacific Islanders dominating at smartphone adoption, with more than 2/3rds of mobile handsets being smartphones. Check out the graphs below for all the nitty-gritty.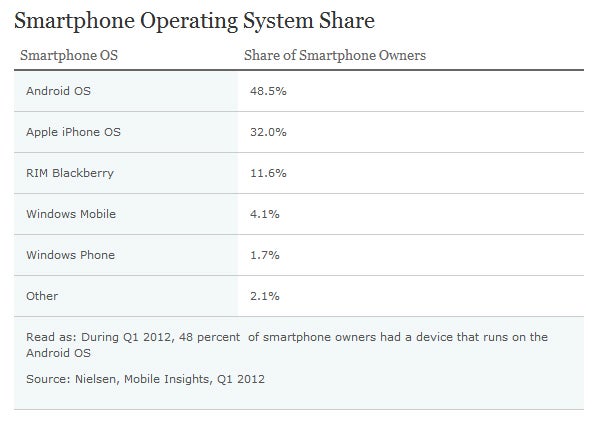 source:
Nielsen