The origins of Metro UI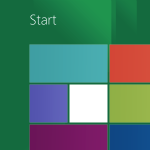 Like it or not, the Metro UI has moved beyond the Windows Phone experience, and will soon become the standard interface for just about any Microsoft product, and now an attendee of a "Behind the Tiles" event is giving the origins to this design ideal.
Apparently, the idea for the Metro UI was inspired by the Swiss Movement of the 1960s, which had a core philosophy to "communicate to people through design, while being different yet direct." This was definitely a solid idea to have as a main aim for Microsoft, because of course the company wanted its new products to stand out from the other mobile platforms, which all followed a general template of having pages of icons and perhaps some widgets. Microsoft wanted a simple, but iconic UI. For this, the Metro UI was essentially built upon a modified version of the Segoe font, which was inspired by Helvetica and the Swiss Movement.
It's certainly an interesting story, and we would agree that Microsoft has succeeded in creating a new visual style that sets it apart from the competition. However, we have found that sometimes the simplicity can be pushed too far, and the icons without text labels can be a bit confusing for some users. And, of course we still can't say just how well the style will work as a full release in Windows 8, because that will be a very big change for PC users. Still, Microsoft has done a pretty good job with the design, and we're looking forward to hearing more about the history of it.