Survey shows that kids want the Apple iPhone from Santa this year
62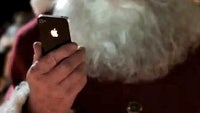 A survey conducted for rebate based shopping site Ebates asked kids 12 to 17 what they wanted to find under the tree this holiday season. A resounding 88% said that they wanted a gadget. And the gadget most wanted by the kids? The Apple iPhone, which was number one on the wish list of 32% of the kids surveyed.. And no, iPhone was not being used as a synonym for a smartphone as 12% said that they want a Samsung Galaxy device. The second most wanted device after the iPhone was the Apple iPad.
But there were differences in the wish lists among boys and girls. And yes, boys will be boys as those of the male persuasion selected the Sony Playstation 4 as the present they most wanted to find from Santa this holiday season. But the 41% of girls who selected the iPhone was enough to put it on top of the combined list.
Back in 2010,
Apple devices were on top of the wish list of those 5 to 16
. In 2011,
kids asked for the Apple iPhone 4s, the Apple iPad 2 and the Amazon Kindle Fire
. Last year,
the iPad was the most wanted holiday present
with the iPhone dropping down to number 5 behind the Nintendo Wii U, the Apple iPod Touch and the
Apple iPad mini
.
source:
CNET
Recommended Stories