Apple gadgets top children's holiday wish-lists
1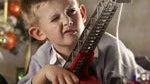 The
Duracell
Toy Report revealed that Apple gadgets are the most wanted holiday gifts for children ages 5 to 16. Among all the 2,138 children surveyed, 39% placed either an iPhone 4, iPad, or
iPod
at the top of their lists.
Among 13 to 16 year-olds, 66% wanted an Apple device. Fifty-percent of 9 to 12 year-olds also wanted Apple devices. Perhaps the most surprising is that among children ages 5 to 8, 17% put an Apple gadget at the top of their list. What happened to train sets, and stuffed animals, and action figures?
The popularity might be due to the overexposure of Apple products. Children view hundreds of
Apple ads
, and they haven't learned to filter them like adults. If kids aren't seeing commercials or billboards about Apple's wares, then they're surely hearing about them from their parents.
It also might be due to their parents letting the children borrow their devices. Spend any amount of time in a department store in New York, and you'll see kids bopping away at a game on their parents' iPhone or iPad. The study confirmed such a phenomenon, as 3 out of 5 parents admitted choosing toys that would keep their kids quiet.
Whether or not you think this is bad news, we should remember that a 5 year-old has no legitimate use for a powerful device like the iPhone. Do they even have an email address? There is a silver lining to the results: the preference for such gadgets is a departure from more gender-specific toys; so at least our socialization is becoming less sexist.
source:
Telegraph
via
SlashGear