No surprise: kids ask for iPads and iPhones from Santa
39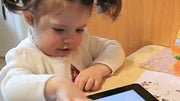 According to a recent survey conducted by
Nielsen
, U.S. kids' holiday wish lists are dominated by one particular gadget – the iPad. The research shows that 48% of children between 6 and 12 years of age want one, which means that Apple's tablet is once again the most desired holiday gift among kids. In comparison, that figure stood at 44% last year. The trend continues as we take a look at consumers aged 13 and above as 21% of them express interest in getting one. That's down 3% from last year, yet the drop isn't enough to take the iPad below the number one spot.
Naturally, the
iPhone
is also among the most requested holiday gifts, but it ranks a bit lower occupying fifth place in the charts. Furthermore, the iPad mini is more popular among users aged 6 to 12, with 36% of respondents being interested in getting one, yet only 11% of those aged 13 and above want it.
Are Android devices on the chart? Certainly! However, kids don't seem to be as interested in them: only 29% of 6- to 12-year-olds would like to have a tablet other than an iPad and only 20% of them are wishing for a smartphone other than an iPhone. 18% of teenagers and older consumers would put a tablet other than an iPad on their wish list, while only 11% of them are expressing interest in having an Android smartphone.
So in case you aren't really sure what to get for your kids, chances are that an Apple gadget would make them perfectly happy. And if you are still wondering what to grab fro yourself, perhaps you might want to take a look at our
2012 shopping guide for smartphones and tablets
.