Survey in U.K. of those waiting on line, shows large preference for the Apple iPhone 6 Plus
29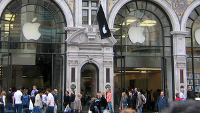 U.K. gadget insurer
Protect Your Bubble
decided to take an impromptu survey of 100 people camped outside the Regent Street Apple Store, waiting to purchase their new iPhone. What the survey discovered is that 41 of the 100 were waiting to buy the
Apple iPhone 6 Plus
. That is an interesting number since the 5.5 inch phablet is expected to be
in extremely short supply
. 20 responded by saying that they were waiting for the
Apple iPhone 6
, and 29 replied that they were waiting to purchase both models. That leaves 10 people whom we guess ended up on the line by mistake, perhaps thinking that they were waiting to use the men's room at the store. Or perhaps they were struck dumb by their proximity to the two iPhone models, and couldn't answer the question.
Those on line found the smaller 4.7 inch Apple iPhone 6 to be a better value proposition than the 5.5 inch Apple iPhone 6 Plus. The former was perceived as a good value for the money by 67%, while 54% answered the same for the larger-screened version. Interestingly, as we've seen with other surveys, the
Apple Watch doesn't seem to have won over the majority just yet
. 54% of those surveyed said that they don't have plans to buy the timepiece.
47 of the 100 waiting on line were there because they are "die-hard Apple fans". Since the company that conducted the survey insurers the iPhone, they did ask some questions related to that business. Of those who had owned Apple products before, 24% had broken them. 18% had their Apple devices damaged by liquid, or were just lost. Only 37% had their Apple devices insured.
Speaking of long lines, check out this aerial shot of the line waiting outside the Ginza Apple Store in Japan.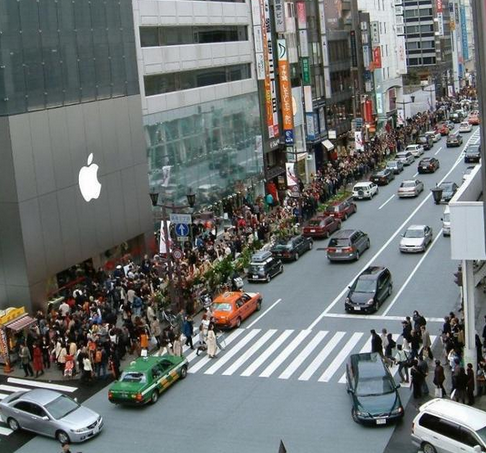 Long line outside the Ginza Apple Store in Japan
source:
@JapanTravelMate
via
Forbes
Recommended Stories