Supply chain source confirms 12MP rear camera for the Apple iPhone 6s and Apple iPhone 6s Plus
63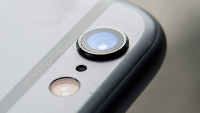 One of the most leaked specs about the upcoming
Apple iPhone 6s
and
Apple iPhone 6s Plus
,
are the 12MP cameras that are supposed to be found on the back
of both models. That would be up from the 8MP snappers currently found on the
Apple iPhone 6
and
Apple iPhone 6 Plus
. The latest version of this rumor comes from a source inside Apple's supply chain, who spoke with
Business Insider
.
The supply chain source says that Apple has ordered five element lenses for the new iPhone models. The component is said to now be in mass production. Considering that Apple is reportedly
going to unveil the iPhone 6s and iPhone 6s Plus on September 9th
, it is a good thing that the part is being produced at this stage.
Each element is similar to a stand-alone lens. When melded together, they allow the camera to capture information in more detail. They are actually made of plastic, and cost only $1 each. Of course, Apple protects the lens with a sapphire glass cover to guard against scratches. But the five element camera lens is actually behind the rear cameras with six element lenses being churned out by some Android producers. The
OnePlus 2
, for example, has a 6 element lens on its 13MP rear camera. This allows more light to come into the camera for sharper and clearer images. It also allows the camera to take better pictures under low-light conditions.
For iPhone users, there is some good news. Apple is said to be considering producing a six-element camera lens for the 2016 Apple iPhone 7 models.
source:
BusinessInsider