Sunrise - a new calendar app comes to show the Google and iCloud calendars how it's done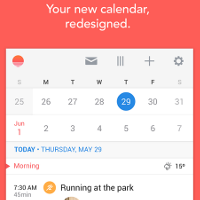 Sunrise is a new calendar app for that works both with Google Calendar, and crosses over to iCloud, too. It is simple, light and efficient, what Google's Calendar should be, if it wasn't put on the backburner by the busy folks over in Mountain View.
And so, whether you are coming from Apple's iCloud calendar, or unsatisfied with Google's solution, Sunrise is worth giving a shot, be it only to see what iPhone users have been clamoring about since the app was released on the iOS platform last month.
While the choice of widgets might leave something to be desired, and the developers are hard at work bringing Exchange support, as well as a tablet-oriented UI, Sunrise still shines with most bells and whistles you'd expect from a great calendar app, plus a simple to use, polished interface.