Successor to Microsoft Surface Pro 3 may not land until October
12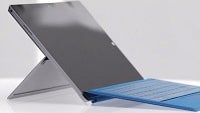 With the announcement of the Surface 3, whose design language borrows from the still successful
Surface Pro 3
, and the upcoming Build 2015 developer conference, Microsoft may opt to release the Pro 3's successor later in the year when Windows 10 is launched, rather than the June/July timeframe.
While that would not make those waiting on the new tablet very happy, it does make sense to release the new Surface Pro device when Windows 10 is available, as it would be the first device to deliver with Microsoft's new operating system pre-loaded.
However, since Windows 10 is going to be a free upgrade to everyone running Windows 8.1, Microsoft could always pull the trigger sooner if it needed to be that flexible.
Market release dates aside, what we are more interested in is what the new Surface Pro will actually be. There have been no definitive rumors or leaks, but based on what we shared last month, the next generation Surface Pro
may have two size options
(12-inch and 14-inch 2K displays), have storage options up to 1TB, and 16GB of RAM.
Like other Surface Pro tablets, the stylus will still be part of the package, and expect a continued variety of Type Cover keyboards. Also, like previous Surface Pro tablets, the price tag will also be a premium above the
newly announced Surface 3
.
source:
Inquisitr