Subway Surfers is world's first game to reach 1 billion downloads on the Play Store
15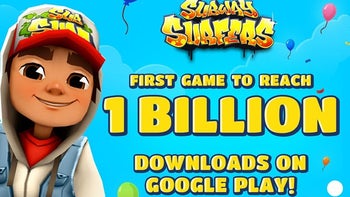 Developers SYBO and Kiloo Games have just announced their endless runner
Subway Surfers
is world's first game to reach 1 billion downloads on Google Play Store.
Subway Surfers made its debut on mobile devices almost six years ago, but the teams behind it never stopped supporting the game and adding new content to it on a monthly basis. According to developers, Subway Surfers was the most downloaded game of 2017.
Apparently, last year the game broke through its all-time annual download record with more than 400 million mostly organic downloads on both Android and iOS platforms. But the story doesn't end here, as SYBO Games Chief Executive Officer, Mathias Gredal Noervig promises more surprises for fans of the
endless runner
.
We have achieved greatness by combining our strengths at SYBO and Kiloo. The continued growth of the game and brand is our focus, and we are excited about future releases, and the animated short films that are launching later this year. The players will have even more great content to consume.
Out of the 79 world tour visits released by developers, the most popular destinations in Subway Surfers last year were Peru, Saint Petersburg, and Cairo. Seems like a great time to start playing it again, right?
source: SYBO