Strongest screen protector guards display from getting hammered on and bombarded with steel (video)
17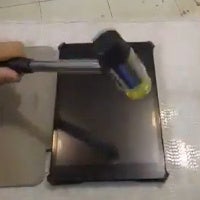 Having the latest smartphone is a privilege but it could be a costly one. Especially if you are the careless type that would often drop a device. With such a huge display, it's not hard at all to crack a screen going into costly and timely repairs, and one solution to that problem comes from Korea in the form of allegedly the strongest
screen protector
.
Demonstrated in a phone shop in Hong Kong, an iPad mini with that protector is getting hammered on and on and on, but nothing happens. No cracks, no dents. The screen remains perfectly intact.
Manufactured by "ARK" a Korean by AIMHIGH INTERNATIONAL company the protector really is extremely strong. It survived an iron bead dropping test and for disbelievers the protector is finally taken off the screen and the display shatters without it on first impact.
Right now the protector is offered in Asia for the iPhone 5, iPad, iPad mini, Galaxy S III and Galaxy Note II for around $19 to $25.50.
source:
MIC Gadget