Steve Jobs says Reception problem? What Reception problem?
37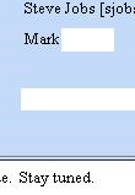 What a rough last few days it must have been for Steve Jobs. The Apple CEO first responded to
videos
showing the new iPhone 4 dropping calls when touched on the lower left corner, by sending out e-mail telling people that they were holding the new handset incorrectly. Ironically, published pictures showed Jobs holding the phone the same "incorrect" way. Changing tactics, Apple
then issued a press release
that said that all cellphones will lose some signal strength when gripped. Now, it is back to denial. Jobs responded to a e-mail from a forum poster. "There is no reception issue," Jobs wrote, "Stay Tuned." As we
reported
, there is speculation that today, Apple will be sending out a software fix to help solve the problem that Steve Jobs says doesn't exist. While this is nowhere near the debacle that the BlackBerry Storm went through during its launch, there is enough spinning of the truth, intrigue and position changes to make you wonder if Apple shouldn't have been warned by the problems that surfaced before the launch. We had the
situation with the "lost" iPhone
that led to the Gizmodo problem. We
watched
as Steve Jobs failed to bring up the New York Times web site on the new handset during its introduction at the WWDC. We
saw
AT&T's servers conk out on the day that pre-orders were first accepted. Why, it's enough to make you pull out your old Ouija board from the closet just to see how smoothly Verizon launches the DROID X.
Apple iPhone 4 Specifications
|
Review
source:
MacRumoursforum