AT&T's server problems affecting iPhone pre-orders
This article contains unofficial information.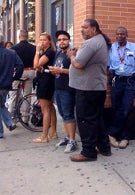 Long lines outside of certain AT&T stores are once again related to the iPhone. This time, people are lining up merely to pre-order the new iPhone 4 which doesn't launch until June 24th. The reason for the line may not be totally related to demand for Apple's handset. AT&T has been experiencing server problems that has turned a usually quick and painless act into one of torture-like root canal without novocaine. Unfortunately for those trying to pre-order in person at the store, the first step in the process is renewing your 2 year contract. After that is accepted, the server malfunction kicks in and you're stuck having to wait for the server to work or else you would have a new contract but with no new iPhone coming. One estimate said that it was taking 20 minutes to complete each pre-order. The problems are said to be system-wide and even the Apple site has been having problems under the weight of the number of orders. What has your experience been?
Apple iPhone 4 Specifications
source:
Gizmodo