Steve Jobs nailed it; desktop Flash will join mobile Flash to the grave in 2020
42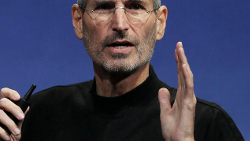 Adobe today made an announcement that Steve Jobs predicted it would make over seven years ago. It was the beginning of 2010 and Jobs had just unveiled the first
Apple iPad
just days before. Hosting a Town Hall Q&A session in front of Apple employees,
Jobs went after Adobe and Flash, calling the latter buggy
(and a battery drain, he later wrote). He also made the prediction that no one will be using Flash in the future as HTML5 would replace it. At the time, updates were allowing
various Android phones like the Motorola Droid and the Nexus One to support Flash animation
. Android users who were at first thrilled with Flash, couldn't wait to disable it thanks to its penchant to lag.
Yesterday, Adobe announced that declining usage means that it will stop supporting Flash on desktops in 2020. Adobe says that in 2014, 80% of Chrome users visited a site using Flash daily. That figure declined to 17% this year. Security was the big issue afflicting Flash on the desktop, and Firefox stopped including Flash by default. Google stopped showing Flash based ads on Chrome, turning instead to HTML5. And hey, isn't that exactly what Steve Jobs predicted back in 2010?
It wasn't necessarily the bugs that kept Flash off of the iPhone. After all, Jobs saw that as a minor engineering issue. According to those in the know, Jobs was upset that Adobe CEO Shantanu Narayen would not take Jobs' calls; this made the Apple CEO feel that Apple would not be able to get in touch with the software firm if a situation arose that required immediate communications between Apple and Adobe. However, an Apple software engineer revealed last year that
Apple tested Flash on the iPhone back in 2008
and it obviously did not impress anyone at Apple.
Mobile Flash died in November 2011, and Adobe will stop supporting and distributing the Adobe Flash Player at the end of 2020. And as Jobs predicted all those years ago, HTML5 is the most popular replacement.
source:
Adobe
via
Engadget