On the eighth anniversary of his passing, Steve Jobs is remembered by Tim Cook
9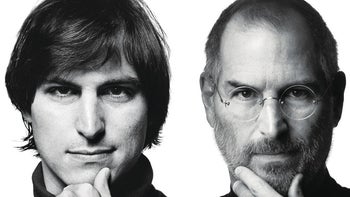 Eight years ago today, the tech world lost one of its visionaries and Apple lost its leader when
Steve Jobs succumbed to pancreatic cancer
. Current
Apple CEO Tim Cook sent out a tweet
today to remember his predecessor. The tweet contains a quote from Apple's co-founder. "The most precious resource we all have is time," Jobs once said, and Cook added underneath the quote, "Remembering you always." The tweet includes a picture of Jobs looking at the Apple logo inside the iconic glass cube at the Fifth Avenue Apple Store in (where else?) the Big Apple. After a two year renovation, Apple recently reopened the location.
The day before Jobs passed,
Apple introduced the iPhone 4s
, the first Apple device to feature Siri. And while many figured that Apple was through without its leader, current CEO Tim Cook has done a masterful job running the company. As CEO, Cook presided over the increase in iPhone screen size from 3.5-inches to as large as 6.5-inches, the increase from one new iPhone a year to three (and maybe four next year if the new iPhone SE arrives as rumored), the development of the iPad Pro, and the creation of two of the most popular wearable devices in the Apple Watch and the AirPods wireless Bluetooth earbuds. Under Tim Cook, Apple became the first U.S. publicly traded company to be valued at over $1 trillion.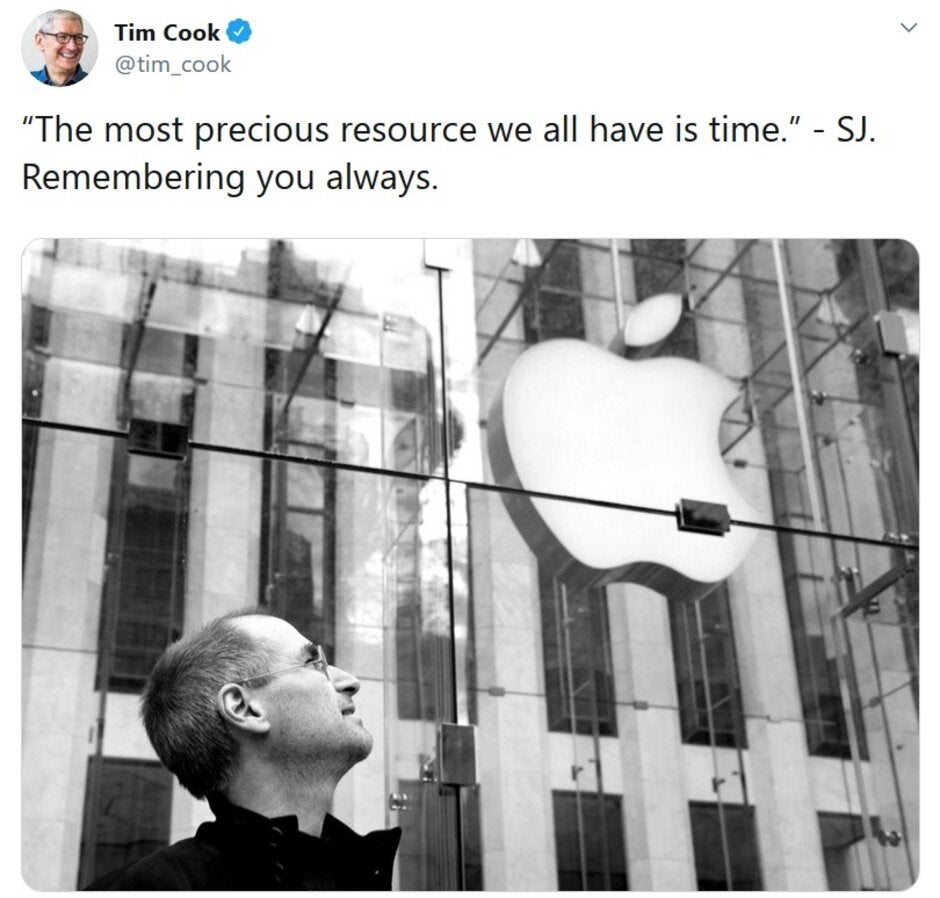 Tim Cook remembering the late Steve Jobs
Cook has made a number of pivots that have worked out well for Apple. With handset shipments peaking in 2015, Apple started focusing on the large number of active iPhone users (900 million at last count) and decided that if they won't upgrade to a new handset every year or two, perhaps they would make recurring subscription payments to services like Apple Music, Apple Arcade, Apple News+ and Apple TV+. In 2016, Apple said that it was targeting Services revenue of $50 billion by 2020, up from the $25 billion it collected four years earlier. The Services unit is Apple's second largest and most profitable division.

You might not remember, but Jobs handed the keys of Apple over to Tim Cook not once, but twice. The first time was on January 15th, 2009
when Jobs' illness forced him to take a leave of absence
for half a year. The second time was in August of 2011. In a letter he wrote to the company's Board of Directors, Jobs asked that the succession plan already worked out by Jobs and the directors be implemented. That plan called for Jobs to serve as Apple's Chairman, a company director and an employee of the firm he started with Steve Wozniak on April 1st, 1976. It also called for Cook to permanently take the CEO position.
"I have always said if there ever came a day when I could no longer meet my duties and expectations as Apple's CEO, I would be the first to let you know. Unfortunately, that day has come. I hereby resign as CEO of Apple. I would like to serve, if the Board sees fit, as Chairman of the Board, director, and Apple employee. As far as my successor goes, I strongly recommend that we execute our succession plan and name Tim Cook as CEO of Apple."-From Steve Jobs' resignation letter
Some might argue that Apple has not been the same innovative company since Jobs' death, and certainly most of the fresh new smartphone features these days comes from China. But Cook did say in an interview earlier this year that
Apple's new product pipeline will "blow you away."
We know that Cook has an interest in Augmented Reality (AR) and the company's long-rumored AR headset could be introduced sometime next year. Remember, the iPhone was not the first smartphone ever made, and it is possible that Apple has a number of tricks up its sleeve; in other words, could Apple Glasses (the device's rumored name) do the same thing for the AR headset market that the iPhone did for smartphones?