Stephen Elop: more Nokia Asha phones coming in a few days
19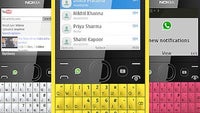 While Nokia has the Lumia lineup to meet the needs of demanding smartphone users, it also has a family of phones that are aimed at consumers on a really, really tight budget. Of course, we're talking about the Asha series of affordable phones, the priciest of which will set you back no more than $80 or so off-contract. Sure, these cheap phones have little to impress with other than their low price. However, that doesn't mean they're doing bad on the market. Actually, Nokia might be pretty content with their adoption rates, judging by the fact that more new Asha models are on the horizon.
"We are continuing to renew our portfolio, which includes plans to announce innovation and new products in the Asha line in the days immediately ahead,"
said Stephen Elop – CEO of Nokia, while speaking at an investor's meeting. In other words, new Asha models are to be unveiled very soon, and since the latest member of the family – the
Nokia Asha 210
, has a QWERTY keyboard, the Asha handsets that are to be announced may be full-touch devices. Who knows, they might even look a lot like these
leaked Nokia Asha conceptual handsets
, or at least feature some of their design elements. And surely we won't be complaining if
the new Ashas get fun, fancy games like Temple Run 2
and the likes.
But that's just us making speculations based on previous rumors. Expect hearing more about the latest members in the Asha lineup in a few days! In the meantime, feel free to drop us a line below and tell us what features you'd like to see in the new Ashas by Nokia.