StayblCam steady video stabilizer blasts past Kickstarter goal, will work with Android, iPhone and more
4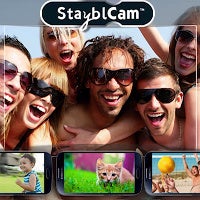 We've long obsessed over smartphone cameras: our
camera comparisons
go in great detail over every aspect of the photo and video capabilities of the latest top smartphones, but when it comes to video it takes more than just a good camera to achieve great shots. Stability, in particular, is quintessential for a good, cinematic recording.
Smartphones from Nokia, HTC, and LG have added optical image stabilization and software stabilization has improved greatly over time, but you still cannot get stable-enough shots. So far, there's been no stabilization rig to really make this possible with smartphones and truly unleash their potential.
This changes with a recent Kickstarter project - StayblCam. Easily blasting through its $35,000 initial target, StayblCam received over $125,000 in crowdfunding and is on its way to arrive to backers in July.
StayblCam is unique in just how compact it is, and how easy it is to use. While traditional stabilization rigs are bulky and require a lengthy set up with nuts and bolts and managing counterweight balances that only experts can do, StayblCam is much easier to use.
StayblCam makes it possible to record stable, cinematic video
You move and control the StayblCam using the gyroscopic grip action handle, using just your thumb and index finger. Furthermore, you can extend it to shoot at up to 3 feet above your head. Controlling camera angle and its motion happens with just the ring finger and the pinky. The stabilizer also has a strong grip that works with all smartphones and holds them so tight that you can even record with it upside down and get to those really low-to-the-ground shots of your pet (or baby).
The Kickstarter campaign is over, but you can now simply go to
Stayblcam.com
(external link) and pre-order yours for $75.