Sprint's Katana LX now official
4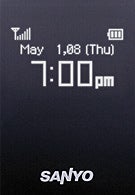 Katana LX
has been talked about for a long time now. The rumors proved right, and this really is the successor of the
Katana II
, with similar functionality but refreshed, shinier design. There will be three color versions: blue, gray and pink. Similar to some high-class phones, below the reflecting surface on the front is hidden an OLED display, yet the phone is will be offered at an affordable price.
If you are a camera fan and have been holding your breath for an improvement? Sorry, the LX still has only a VGA resolution, though it is advertised for the external and internal shortcut – cool. Unlike the Pro-200 and the Pro-700 it isn't
QChat
capable, but is also upcoming with Sprint. Availability, cost, and date are not yet revealed, but we guess it will come out on April 16 at a price that wouldn't break the budget.
Sanyo Katana LX
Specifications
source: Sanyo