Sprint's HTC EVO 3D, HTC EVO View 4G release date, pricing now official: both coming June 24th
22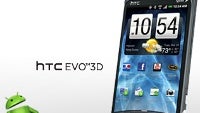 The
HTC EVO 3D
release date
has been the hot topic of last week with dates literally pouring from all sides ranging from June 4th to
June 24th
, and unfortunately it's the latter that Sprint just made official. The EVO 3D comes with a
price tag of $199.99
if you pick it on a two-year contract, but the wait might well be worthit. The handset sports 4G WiMAX connectivity along with a dual-camera setup for 3D capture and glasses-free viewing of 3D content. The 4.3 incher is also the first with a dual-core processor on Sprint featuring a 1.2GHz Qualcomm Snapdragon chip.
The EVO 3D requires an
Everything Data plan
with an additional $10 for Premium Data for smartphones. Sprint's unlimited data plan with unlimited text and calling starts from $69.99, or a total of $79.99 if you include the smartphone surcharge.
But the third-largest carrier hasn't overlooked tablets as well with the
7-inch
HTC EVO View 4G
which arrives on the same date carrying a $399.99 price with a two-year agreement. Unlike other U.S. retailers like Best Buy, Sprint will bundle the tablet with the
HTC Scribe capacitive stylus
, otherwise separately sold for $79.99, for a limited time. The subsidized price of the EVO View 4G requires a data plan starting from $34.99 a month for 3 gigs of 3G data and unlimited 4G. We've already put the European version of the tablet sans 4G connectivity, the
HTC Flyer
, through its paces, so feel free to check out our in-depth review for our final verdict about the gadget.
Both devices are capable of turning into a mobile hotspot, propelling their Internet connection to other Wi-Fi-enabled gadgets. Both support up to
8 devices
which can connect to the hotspot simultaneously, but users will have to pay $29.99 a month for the feature. If you've already made up your mind, you can
pre-order
your gizmo at a Sprint Store by purchasing a $50 Sprint gift card per device. But in either case, the HTC EVO 3D and the HTC EVO View 4G will be available at stores starting from 8:00 am local time on June 24th.
source: Sprint
Recommended Stories