Sprint will release 'Drive First' software later this year, which limits functionality while driving
4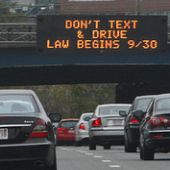 Smartphones have become seemingly indispensable tools for communication, productivity, and even safety. But the convenience of such a wide array of features greatly contributes to
distracted driving
, which is responsible for nearly 1000 unnecessary traffic deaths every year.
Location Labs is offering a solution, called
'Drive First'
, that will automatically sense when the user is driving, and limit their device's functionality. The software works by sensing, via GPS, when the user is in a moving vehicle, and then
limiting their use to essential features
, like calling particular contacts or using GPS navigation.
And
Sprint
has announced that they will offer the service on their Android devices later this year, for $2/month. In January, T-Mobile launched the same Location Labs service under the
'DriveSmart Plus'
name. When the user is in the car, their homescreen will lock, texts will be blocked, and key contacts like emergency services and parents will be the only available contacts for voice calls.
You were probably wondering, "What if I'm the passenger?". Users can bypass the software's locking mechanism, but it will send a notification to the account holder (the parent), alerting them to the change.
There are independent apps for limiting functionality while driving, but Location Labs' is the first to be distributed through carriers. Hopefully, that will increase awareness and adoption, and make our roads a little safer. We all love our smartphones, but they'll still be there when you get to your destination. And if it really is an emergency, just pull over.
source:
Location Labs
via
Textually