T-Mobile's Drive Smart app for Android limits your phone's functions while driving
4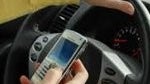 As we continue to see some highly functional smartphones that are constantly connected, we also witness some of the horrors that arise when driving and using your phone come clashing together. We're all too aware about the horrific stories about the consequences of using your handset while operating a vehicle, but T-Mobile is doing their part in reducing those tendencies with their Android app.
The carrier announced the availability of the
DriveSmart Plus app
, which is the creation of Location Labs, that can be download on T-Mobile devices like the LG Optimus T; with more being supported down the road. Essentially, DriveSmart Plus is a subscription-based, opt-in service that will monitor when you're driving and place your smartphone into "
Driving Mode
." Naturally, it'll disable specific functions like texting and calling while you're in motion in the car – which undoubtedly will keep you more focused on the road.
However, users can manually override "Driving Mode" in the event of an emergency or if you're simply a passenger in car. Furthermore, parents can monitor these override activities via text messages, email, or through the use of a web interface.
source:
PR Newswire