Sprint to put its Sprint ID feature on Samsung Galaxy Tab and Samsung Epic 4G
9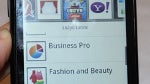 First introduced on the Samsung Transform, Sprint ID allows the user to download a pre-defined "experience" that includes widgets, ringtones, wallpaper and apps, all at one time. These "packs" can be designed for any activity or programming that a group of people might enjoy. For example, packs are available for the sports fan, the fitness fanatic or the automobile expert. Packs can also be purchased for those who like certain programming, like E!, MTV or ESPN to name a few. Up to 5 can be loaded onto your handset at one time.
At its developer conference on Wednesday night, Sprint announced that Sprint ID will be made part of the Samsung Galaxy Tab at launch on November 14th, and a software upgrade will bring the feature to the Samsung Epic 4G.
Fared Adib, Sprint's VP of Product Development said, "
...Sprint ID... introduces a new level of personalization that allows users to customize their device to match their hobbies, interests or personalities. It's all about delivering the ultimate user experience and helping customers get the most out of their wireless
experience."
Each ID pack can be enhanced by the user adding his own apps and content. When a particular pack is removed from the phone, the user can keep the part of the ID pack that they like the most. Right now a number of what Sprint is calling "lifestyle" packs are available, plus a Yahoo! pack, one containing games from EA and a business pack. More will be coming in the following quarters.
To give you a further understanding about Sprint ID, check out the video below which discusses the E! ID pack that will be available.
source:
AndroidCentral