Sprint subscriber defections slow in 4th quarter
14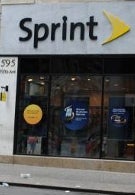 Thanks to customers signing up for the prepaid Boost Mobile service, Sprint was able to limit the number of net defections in the fourth quarter to 148,000 subscribers. That is a major improvement from the 545,000 customers that left the carrier on a net basis in the third period. the nation's third largest carrier lost $980 million in the three months vs. a loss of $1.62 billion in the year ago quarter.
Sprint's prepaid service like Boost Mobile and Virgin Mobile added 435,000 customer for the quarter. The Sprint branded service increased the amount of customers by 3,000 which CEO Dan Hesse says came from improvements in customer service.The Nextel part of the equation was where the loss of subscribers came from in the period and Nextel customers continue to flee. Despite the gains in prepaid, some analysts were underwhelmed and disappointed by the results, saying that MetroPCS, Leap Wireless and even Verizon's $45 unlimited plan on its Straight Talk brand are taking customers from the pin-dropping network. And while helping the raw numbers, prepaid service accounts don't necessarily help the bottom line. Sprint gets roughly $31 monthly for each prepaid customer while grabbing $55 monthly from contract accounts. And with Verizon recently picking up the two webOS devices that had been exclusive to Sprint, and improving the specs on both, Sprint at this point really doesn't have a claim on any "must-have" handsets that have been sending customers to Verizon, AT&T and T-Mobile. The latter carrier, currently trailing Sprint in size, will soon be offering one of those "must-have" handsets, the HTC HD2.
For the full year, Sprint loss $2.4 billion vs. the prior year's $2.8 billion red inked total. the company ended 2009 with 48.1 million subscribers, down from the 49.3 million they had at the end of the prior year, and a bit more than half of the 91 million subscribers that belong to market leader Verizon Wireless.
source:
YahooFinance