Sprint plan gives you an iPhone for life; Verizon announces free Apple iPhone 6 with trade
27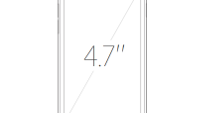 Sprint's new "iPhone for Life" plan offers exactly what the title says it does. Subscribers receive a new Apple iPhone every other year. It all starts with the 16GB
Apple iPhone 6
. For $70 a month, you receive unlimited data and are paying off the phone at the same time. According to Sprint, you will save $575 over the course of a two-year contract, although instead of buying the phone, with this plan you are leasing it for two years at a time. $20 of your monthly bill goes toward paying for the phone, while the remaining $50 covers your unlimited talk, text and data.
Verizon also has a special plan tied into
Tuesday's introduction of the Apple iPhone 6
. Bring your older iPhone model to Big Red, and you will get a $200 gift card, which you can use to buy a 16GB Apple iPhone 6 on contract. Considering that the subsidized price for that model is $199.99, you're essentially trading in your older iPhone for the 4.7 inch iPhone 6. Models accepted for the trade are the
Apple iPhone 4
,
Apple iPhone 4s
,
Apple iPhone 5
and
Apple iPhone 5s
. The trades must be in good working condition, and it will take up to two weeks to receive the gift card. Pre-orders for the Apple iPhone 6 and
Apple iPhone 6 Plus
start on September 12th.
Sprint CEO Marcelo Claure is trying to out do T-Mobile with his own focus on customers. Led by feisty CEO John Legere, T-Mobile added two million new subscribers last year. They did it by offering customer initiatives that have made the nation's fourth largest carrier, the tail that wags the dog in the U.S. mobile industry. Claure,
who replaced Dan Hesse last month
after Sprint's board decided not to buy T-Mobile, got rid of Sprint's goofy Framily and is beginning to sound like Legere. "
I'm skipping my employees and going straight to my customers. We're going to play unlimited, because we have the capacity to offer unlimited
." Sprint has been adding more customers than it has been losing for the first time since
SoftBank bought a majority stake in the mobile operator last year
.
With two CEOs in the industry now looking out for customers first, Verizon and AT&T might have to start looking over their shoulders.
source:
Sprint
,
Verizon
via
Bloomberg