Sprint 'Security Update' strips the Galaxy S III off its Universal Search feature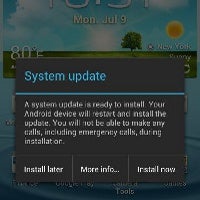 As if getting the
Samsung Galaxy S III
on US carriers wasn't a long enough wait, now Sprint is bringing a "security update" that actually cripples your SGS III and strips it off the universal search feature on Android. So if you try to search for something in the home screen search, you'd only get results from Google, but no app, contacts and email results.
Before you get mad at the carrier, we have to note that this could have something to do with the recent Galaxy Nexus ban. Apple managed to get the Nexus banned in court exactly over its universal search feature, patented by Cupertino. So, this quiet update that rolled out might be there exactly just so that Samsung and Sprint can avoid getting hit with a lawsuit.
We'll keep a close eye on updates for Samsung Galaxy S IIIs offered on other US carriers. Logically, they'd need to receive the same update to bypass the legal threat. So far, the international Galaxy S III shouldn't be affected as the patent win is only valid for the United States.
source:
PC World