Spigen iPhone 5 Ultra Flip Case hands-on
6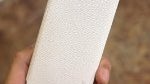 Expanding their line of cases for the
iPhone 5
, which is quite extensive right now to say the least,
Spigen
is now offering owners something similar to the
flip covers
that have been featured with Sammy's line of smartphones of late. With the
Spigen iPhone 5 Ultra Flip Case
, you get that professional look to make you seem all business savvy from afar.
So what's to like about this one? For starters, the case employs a
two-tone diagonal stripe pattern
that has a plasticy feel and a clean finish. It's not bulky at all, thankfully enough, but it would've been nice to have some kind of magnetic connection or a latch to secure the front cover when it's close. Instead, it simply dangles if you don't clasp the handset with your own hands.
Regardless of that, we appreciate that there's a
slit in the front cover
so there's no interfering with phone calls. On top of that, the inner portion of the front cover is lined with
soft micro fiber chamude
so that it protects (and cleans) the display. Interestingly enough, there's a slit also running down the inner cover as well, which seems as though it can accommodate a card of some kind – whether it's a credit card or ID.
Naturally, not everyone is going to want a flip cover with their iPhone 5, but if you do, the Spigen Ultra Flip Case for the iPhone 5 is something to think about – though, its
$37.99
price might be steep for some people.
More iPhone 5 cases to check out