Ballistic iPhone 5 Smooth Series Case hands-on
25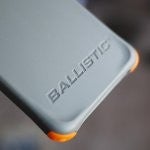 With the majority of rugged style iPhone cases on the market right now, they normally turn the sleek looking smartphone into a monstrosity of sorts – while still flaunting premium prices that make you cringe. Luckily, the
Ballistic Smooth Series Case
for the iPhone 5 intends to change things up for the better, as it sports a very form fitting design combined with a more modest price point. In addition to that, there's a sprinkling of personalization available with them as well.
At its core, the Ballistic Smooth Series Case for the iPhone doesn't add the normal bulk associated with rugged cases. Rather, its rubbery-like casing covers the handset from head-to-toe – with an
almost sealed quality
to it. As its name implies, it's quite smooth and sports a very clean finish that manages to repel dirt and debris. On the corners of the case, there are interchangeable bumpers that
help to absorb the impact
in the event it's dropped. In our quick testing, it's able to safely protect the iPhone 5 from a drop of 5 feet onto the hard pavement. Still, we're a bit worrisome if it were dropped from higher height.
We can't say that the Ballistic Smooth Series Case is the most stylish thing we've seen out there for the iPhone 5, but unlike some of the beefier rugged style cases, it's nice to know that we can still tuck the handset into our pockets – and without any major bulk protruding out. Last thing worth noting, the
$29.99
price attached to the case is something that's reasonable, and not wallet-busting like some of the other alternatives out there.