Spigen iPhone 5 Genuine Leather Grip Case hands-on
28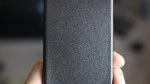 So yesterday, we managed to check out the affordable
Slim Armor Series Cases
from Spigen. No doubt, we dig that they maintain the iPhone 5's iconic industrial design, but if you fancy something that employs materials that are deemed as luxurious, then maybe you should steer into the direction of Spigen's
Genuine Leather Grip Case
for the iPhone 5. Available in three distinct colors (Black, Vintage Brown, and White), they obviously exude that old school premium mentality.
Compared to the Slim Armor Series Cases, Spigen's Genuine Leather Grip Case doesn't have the same profound and eye-catching design, but then again, if you're looking for something that's donning a
classic look
, this is surely it. Hugging the handset very tightly from all sides, we like that both the top and bottom edges are left mainly exposed – allowing various headphones to connect snugly to the 3.5mm jack. Additionally, the
vintage leather look
of the case also gives us a good enough grip to hold onto the handset without making it feel slippery. And finally, even though it's not deemed as rugged style case, it'll at least protect it from all the typical bumps and bruises that occur along the way – albeit, direct plunges to the floor would more than likely result in some kind of damage.
Indeed it's rather pricey at
$31.99
, but it also comes packaged with a Steinheil LCD screen protector and a set of home button stickers to give the iPhone 5 some customization. Of course, the genuine leather material it's sporting mainly contributes to its higher price point. All in all, it's not the most stylish case we've seen, but some will appreciate its vintage aura.