Spigen iPhone 5 Snap Leather Wallet Case hands-on
5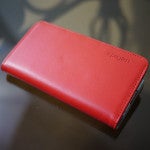 There's just so many ways to go about with an iPhone 5 wallet case, right? Like seriously, the recipe thus far for the stuff we've seen has been pretty much the same – a compartment where the handset is stored, while slots in another allow us to carry a few cards/IDs. Well, it seems as though premium accessory make
Spigen
is adding one unique feature to differentiate its offering.
As its name implies, the
Spigen iPhone 5 Snap Wallet Case
features a
snap-on removable case
that can be used independently from the main wallet case. Standing out for its modern design, the premium elements with the Snap Wallet Case includes its genuine leather material, detachable hard case, and interior chamude lining & pattern. To tell you honestly, we appreciate the small strip in the interior pocket of the case that adds a
meaningful amount of contrast
. At the same time, it has a very clean finish as the case simply has this glossy feel to it.
Much like all the other iPhone 5 wallet cases we've been scoping out, it's a little inconvenient to take phone calls using the earpiece, mainly because there's no cutout in the front for it. However, the
detachable aspect of the case
kind of remedies the issue, since removing it is easily done. Needless to say, it's something new for the form factor that we haven't seen before, which is nice and all. In terms of pricing, the
$54.99
cost for the Snap Wallet Case is a hefty tally compared to the others we've checked out, but then again, the combination of a wallet case and a hard case might be enough to sell it to some people.