Acase Collatio iPhone 5 Case hands-on
2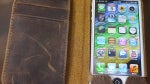 Just the other day,
Moshi's Overture Wallet Case
for the iPhone 5 proved to us how it can reduce the amount of baggage we normally tend to carry along when going out during the weekend. This time around, though, we're getting the chance to relish on yet another wallet case for the beloved smartphone. Unlike the more modern looking Overture case from Moshi,
Acase's Collatio Wallet Case
has that
vintage leather look
to it instead.
Needless to say, the convenience factor in this particular case is seen in the way it reduces the amount of items we need to carry around. One part a protective case, while a wallet on the other, there's no arguing the point that it consolidates things so our pockets aren't as full. Although it's not too bothersome for people, the genuine leather material
shows a lot of wear
very quickly – so it can possibly be something that might dissuade people. At first, we were a bit concerned about how the iPhone 5 would be secured firmly into place, but after sliding it into position, it's nice to find that it's extremely form fitting.
If there's one complaint we have with this case, as well as what we saw with Mosih's offering, it's that it lacks a cutout for the earpiece on the front panel of the case, which means we're required to open it up just to chit-chat. On the inside cover of the case, three slots allow us to carry along a few credit cards and IDs – while a larger slit towards the inner section accommodates larger items. Obviously, the case can't carry on all the random items we throw into our wallet, but it's nice as a weekend night alternative when you're looking to travel light. Sporting a
$39.99
price point, it's not too bad at all taking into account the vintage looks and consolidation we get from it.
More iPhone 5 cases to check out