Moshi Overture Wallet Case for iPhone 5 hands-on
3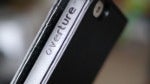 It's Friday night. And if you're social bee, then you're probably planning out some sort of fun for the weekend – whether it's a low key affair at a lounge or an upbeat shindig at a bar/club. Naturally, people try to keep their pockets as light as possible, bringing along only the bare essentials for the festivities at hand. For most of them, there's the conundrum of having to lug around their smartphone and wallet. Fortunately, if you're packing an
iPhone 5
, you might be interested in the
Moshi Overture Wallet Case
that meshes the two commonly brought along items together.
Indeed,
$44.95
might seem a bit steep for some people, but we have to remind ourselves that the Moshi Overture is
both a case and wallet
. For the most part, the Overture doesn't add too much bulk to streamlined smartphone, as it's able to maintain a manageable size when it's tucked away in our pockets. On the outside of the case, its synthetic outer surface
maintains one clean finish
at all times, seeing that it's been treated to be splash repellent.
Inside though, the
tough polycarbonate frame
keeps the iPhone 5 in place – while still providing access to all of its ports and buttons. At the same time, we like that the Overture has 3 cutouts and a full-length inner pocket to allow us to carry along a few cards and IDs – albeit, it's not something that will accommodate our entire stack of hard cash and various cards. Also, it's equipped with "
Neato
," which is a detachable and washable microfiber pad that allows us to clean the iPhone 5's display.
Now, it's nice that there's a cutout in the rear to allow us to snap photos with its camera, however, it would've been nice to have another one in the front for the earpiece – so we can chit-chat when the Overture is closed. Therefore, if you want to travel light when you're going out, the Moshi Overture Wallet Case will perfectly suit your needs. Your pants won't be jiggling too much on the dance floor with this, right?
More iPhone 5 cases to check out