Specs for Jolla, the first Sailfish OS smartphone, are now official
17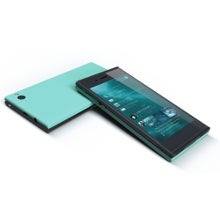 Jolla, the company behind theLinux-based Sailfish OS, has finally released the official specs ofits first smartphone, and this time around it's abit more specific. Based in Finland, Jolla's ambitious have receiveda serious bump ever since local Nokia's handset business changedhands, leaving a vacuum of local fans behind.
The Jolla smartphone is definitely one those 'alternative' projects that we're secretly rooting for,and we can't wait to see if the Sailfish OS will manage to causeripples in the established state of affairs. If it does, however, itcertainly won't be because of impressive hardware or a low pricepoint. Rather, the company has decided to narrow it down to a greatexperience, and really stylish hardware -- while the internals themselves are the Jolla smartphone isa looker.
So, specs. As we said, Jolla has nointention of getting into the hardware wars currently raging in thehigh-end tier. Instead, the specs include a far more conservativedual-core Qualcomm Snapdragon clocked at 1.4GHz, 1GB of RAM and 16GBof microSD-expandable storage. Along comes a rear 8MP Auto-Focuscamera with an LED flash, and a 2MP snapper taking the front. Thehandset is powered by the aforementioned Sailfish OS, which Jolla promises will feature compatibility with Android apps, and a2100mAh user-replaceable cell. Last, but not least, the display is arather underwhelming 4.5-inch qHD panel, meaning a resolution of960x540, so it's pretty fair to say it represents possibly the weakest link in Jolla's specs list.
The Sailfish-touting smartphone isexpect to hit the market by the end of 2013 with a price tagof €399,or about $540.
source:Facebook