Spam texts wearing you down? Block them with the new Truemessenger app for Android
8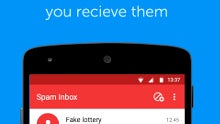 No, it's not the latest cult - the aptly-named Truemessenger application for Android does what it says on the tin - it reveals to you the true source of those annoying spam messages, and can block them for you.
Created by the folks behind the renowned Truecaller app, Truemessenger is linked to the same 100+ million community, dedicated to fighting spam messages and robocalls. It can identify the text message sender even if it's not in your phone book (a switched on data connection is required, of course), and draws from a vast database of blacklisted spammers to automatically block those identified as true... well, spam. Even new spammers can be detected based on pattern, and reported to the True community to take notice and action.
All of that doesn't mean that you will potentially lose important messages, as those identified as spam will be moved into a separate folder, where you can skim through any time to mine for something important. You can also use the so-called Advanced Filter Options, which let you make your own filters with keywords and even area or country codes that are driving you nuts on the regular.
| | |
| --- | --- |
| Developer: True Software Scandinavia | Download: Android |
| Category: Communication | Price: Free |