Soon you'll be able to make WhatsApp calls and chat via Siri
5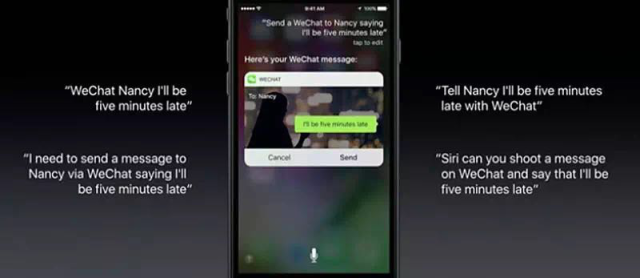 WhatsApp will get Siri integration similar to what you see here with WeChat
With
iOS 10
, Apple is opening up its ever more masterful digital assistant Siri to third-party apps for the first time. It is a restricted bunch, of course, just those apps where it makes sense to use the voice-controlled butler on your iPhone, like ride-hailing, messengers, mobile payment apps and so on - all of these will be getting access to Siri's APIs, should they choose to pursue deeper integration.
Well, the world's most popular chat software, WhatsApp, has apparently chosen to do so. When breaking down the permissions that the newest WhatsApp version uses on iOS, one of these clearly indicates that Siri will be willing and able to take your calls and route them through WhatsApp. The chat program recently ripened its call offerings with voice message service, and perhaps other enhancements will be in store, too.

In any case, you will soon have the ability to say "Hey, Siri, call Taylor Swift with WhatsApp," and the poor virtual assistant will try to oblige. Besides calls, the Siri app will be able to send messages for you, or read the ones you receive out loud. Good luck with deciphering "brb l8r," Siri.