iOS 10 Preview: fun meets functionality in the biggest iOS update ever
56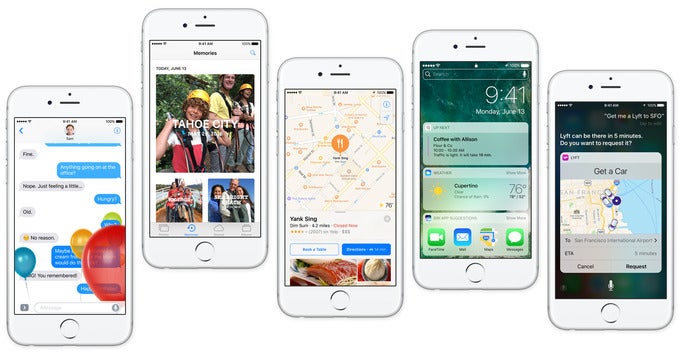 It is not the kind of news you can easily miss – Apple announced a major new iOS version at the annual WWDC event.
It is called iOS 10
, as expected, and it is jam-packed with goodies, including a redesigned lock screen, a more engaging Messages app, a smarter Siri, and new 3D Touch actions. In all likeliness, the
iOS 10 release date
is set in September, when Apple is going to announce the
iPhone 7
, and for those feeling extra curious, a beta version of the new software will be made available in July for public testing.
Patience, however, is not something we have a lot of. Since waiting a month to get a taste of the upcoming release didn't feel like an option, we installed the iOS 10 developer preview on our iPhone 6s soon after it became available. This isn't something we'd advise anyone to do, unless they make apps for a living. The early iOS 10 release we're testing is still too rough around the edges – it is suitable for devs to adapt their apps for use on the new release, but not reliable enough to be a daily driver. Yet for now, this is the only way to get a first-hand impression of iOS 10, so let's dive into it and see what Apple's new software might impress us with.
The lock screen, reimagined
Over the years, the iOS lock screen hasn't really changed much. Sure, we got a camera shortcut and rich notifications in earlier releases, but no redesign has been as major as what iOS 10 brings. And that's not necessarily a great thing, knowing that people are creatures of habit. For starters, the swipe to unlock gesture is now gone. Instead, you press the home button once to wake your device and then once again to get to your home screen. Killing a feature that has been a trademark of the OS since day one seems odd, to say the least, and its omission will upset many an iPhone user. Its sacrifice, however, must have been necessary to make room for lock screen widgets to be added, but more on the topic in a bit.
Speaking of the iOS lock screen, owners of the iPhone 6s and 6s Plus surely know how fast their phone's fingerprint scanner is. It could be regarded as too fast in a way – pressing the home button unlocks the device instantly, not giving us a chance to peek at our lock screen notifications. To rectify this, iOS 10 wakes the screen of our iPhone 6s as soon as we physically lift the device up. This lets us catch up on notifications without having to press a single button. All in all, this is a neat addition to the lock screen experience, but we also think that it could have been executed better. In its current form, the feature lights the screen up only if we lift our iPhone vertically, as if to hold it in our hand. The screen rarely turns on if the handset is lying on a table and we tilt it sideways.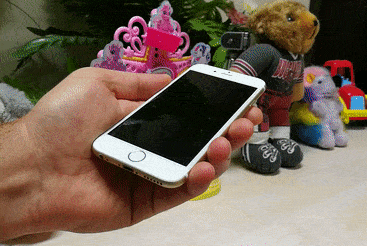 Our iPhone 6s wakes up by magic!
It must be clarified that this lift-to-wake action works only on our iPhone 6s, while the iPhone 6 does not support the feature. However, we can still get our notifications at a glance, whether or not we've enabled fingerprint locking on the last-gen iPhone. Pressing the home button and lifting our finger will light the screen up, but won't unlock the device. Pressing the home button
without
lifting our thumb reads our fingerprint and unlocks the iPhone. Overall, it is a workaround we find reliable, despite this being just an early iOS 10 release.
Another tweak we must highlight is the new camera shortcut. Sliding to the left from any point of the lock screen will instantly take us to the camera app, meaning that we don't have to aim for that tiny button in the corner anymore. On the downside, the swipe has to be really convincing for the shortcut to work. Its sensitivity might change in time for the official iOS 10 release, or course.
A new home for all your widgets
As we stated above, the swipe to unlock gesture has been removed in iOS 10. Instead, sliding a finger to the right on the lock screen takes us to a page with our widgets, arranged in a vertical list, with a quick search bar stuck permanently at the very top. The same swiping gesture also works on the iOS 10 home screen if you're looking at the first page of apps. Whether we like it or not, this is where widgets are meant to reside in the new iOS release. Meanwhile, the pull-down notifications panel is now just that – a panel with all your notifications and nothing more getting in the way. It's a change we don't mind, actually.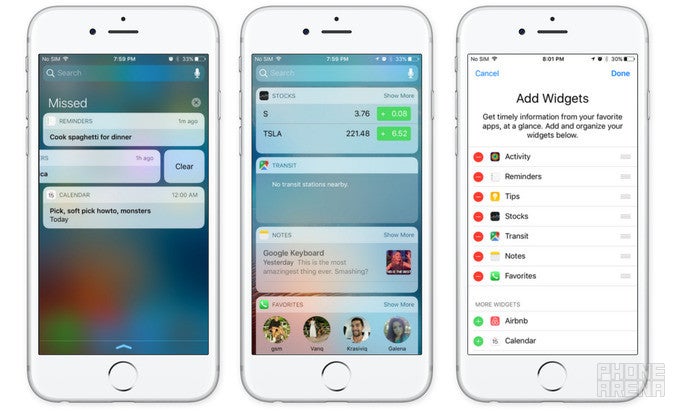 The iOS 10 notifications tray shows notifications only. Widgets are at a swipe's distance from your home screen
Still, we're not sure how to feel about the inclusion of widgets on the lock screen. It seems like an unnecessary complication – one that Android abandoned years ago. On the other hand, Android's implementation of lock screen widgets was never the most elegant one, while iOS 10's execution is simpler, therefore more promising. Folks who actually use iOS widgets might find it convenient to have them at a swipe's distance, but for now, we can't really say whether we like their addition or not.
3D Touch is more useful than ever
Apple gave the iPhone 6s 3D Touch to set it apart from the crowd, but didn't quite tap into the full potential of this admittedly innovative functionality. With iOS 10, however, our iPhone's force-sensing screen suddenly feels a lot more useful. That's not only because new shortcuts have been added to many of the stock apps – the Settings app now provides quick access to our Cellular Data controls, for instance, while the Phone app offers us to view recent calls or search for a particular contact. In iOS 10, 3D-touching an app will also display a widget, if available, which can be extremely convenient in many situations. To give a few examples, Phone lists our favorite contacts, Weather shows the current conditions, Activity displays how active we've been throughout the day, and Calendar gives us a glimpse at our agenda – all without the need to open any of these applications. This is practical innovation at its finest! Still, we can't overlook the fact that the new widgets panel, which we highlighted above, makes having widgets accessed by 3D Touch somewhat redundant.
Tidying up the Control Center
On the topic of 3D Touch, the feature is now baked into parts of Control Center. For example, hard-pressing on the flashlight offers three brightness settings, and the timer presents us with a few common duration presets. As for the panel itself, it has been reorganized and feels a bit less crowded as a result. Our music controls are now placed in their dedicated tab, with plenty of room for buttons, a progress bar, and album art to be shown.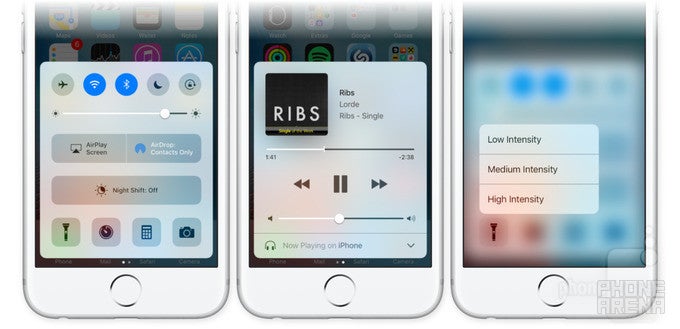 The iOS 10 Control Center adds a dedicated panel for music. 3D Touch is also there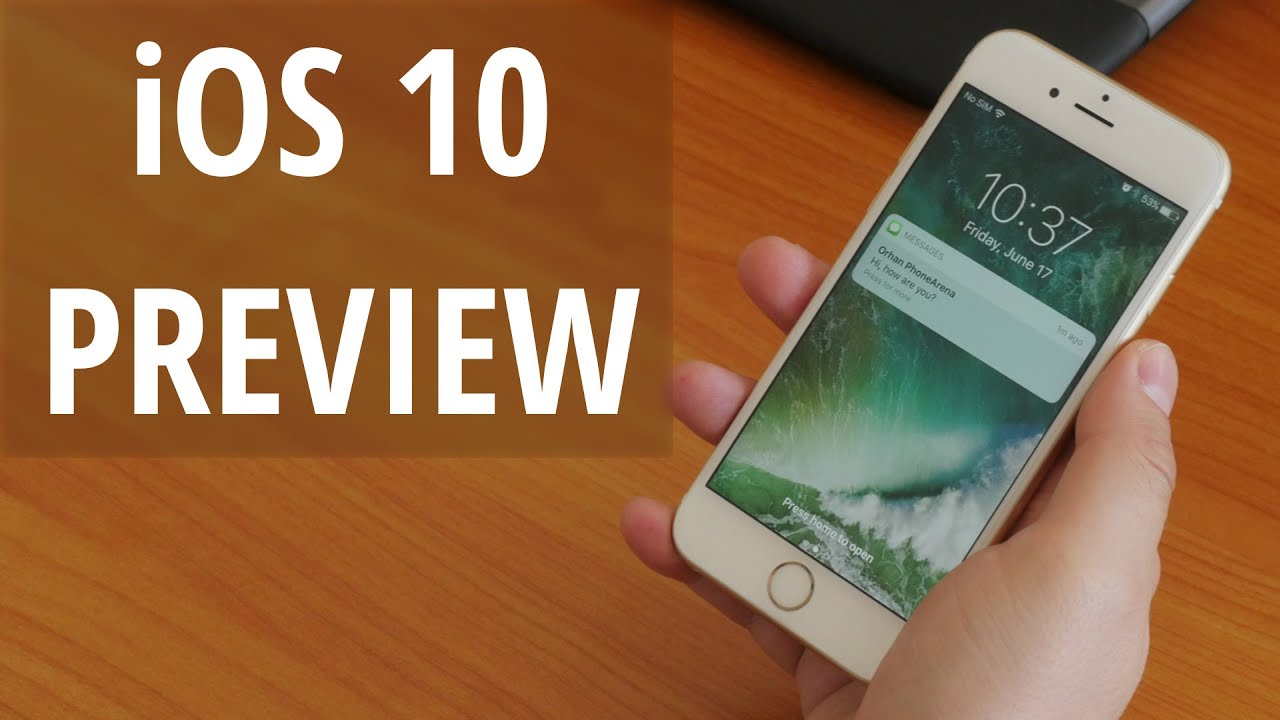 Recommended Stories